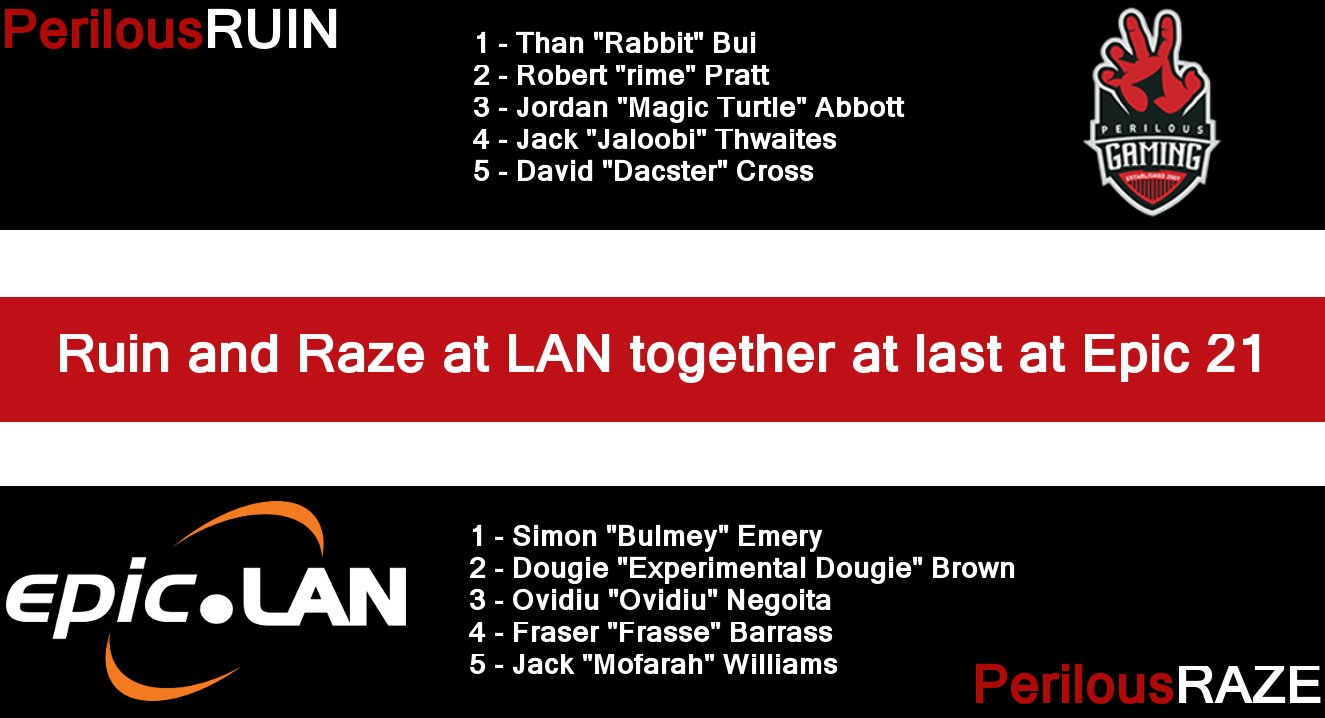 Some LANs end with a bang, some end with a fizzle. While the grand finals of Epic 21 might have been over quickly and not viewed by many people (both online and off), the LAN ended with a call to arms from UKDota. This journey started with something we've been waiting to see for two years now; The Perilous Dota 2 Derby.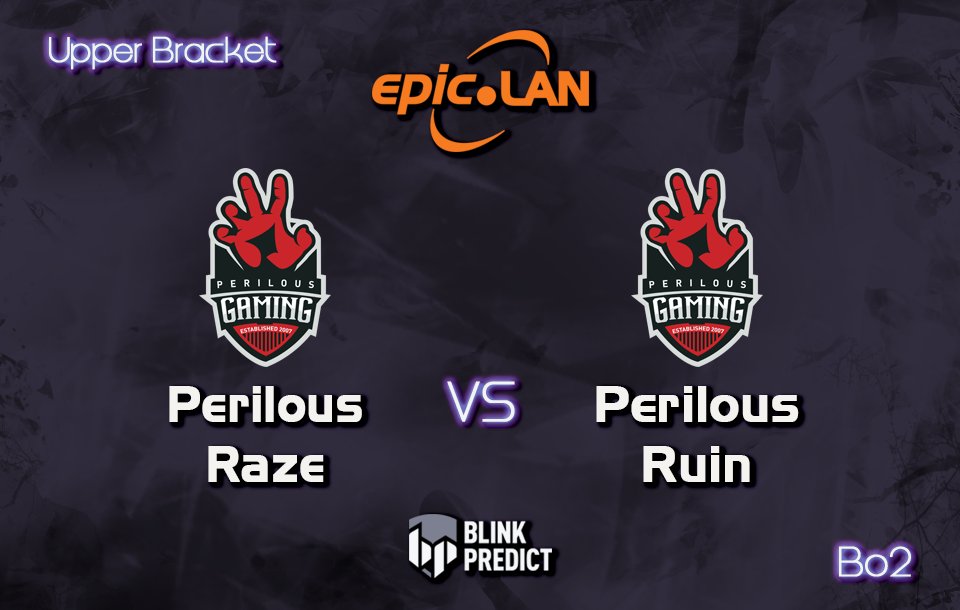 In September of 2015 two Dota 2 teams were created; PerilousRUIN and PerilousRAZE. Each team has attended LANs in the past but never together. Epic 21 marks the first time we've been able to have both of them at the same LAN. We knew there was a chance the aforementioned Perilous Derby would happen. Never imagined it would be the series that kicked off Epic 21's Dota 2 streaming schedule though. Ruin took the games 2-0 so a win for Perilous! This was the most relaxed anyone saw General Manager Brian all weekend.

With a much waited for series over, Raze and Ruin began playing the stacks in their group; Top 3 & Tea and AA (check Epic website for what the acronym means). Top 3 & Tea was Doopz (aiming for at least 2nd as usual), Water, Crysen, the only person Brian has ever shouted at in UKDota Tea and a much welcome return from former Ruin player Yoshi City to the UKDota LAN scene while AA had Chinerz, the anti-tilt of UKDota Soup, former Perilous Hearthstone player Barg, Hanako and Xion. AA had big big dreams of getting knocked out quick enough to get Domino's lunchtime deals and, after a brilliant binge by Soup on the Thursday night, they were all set.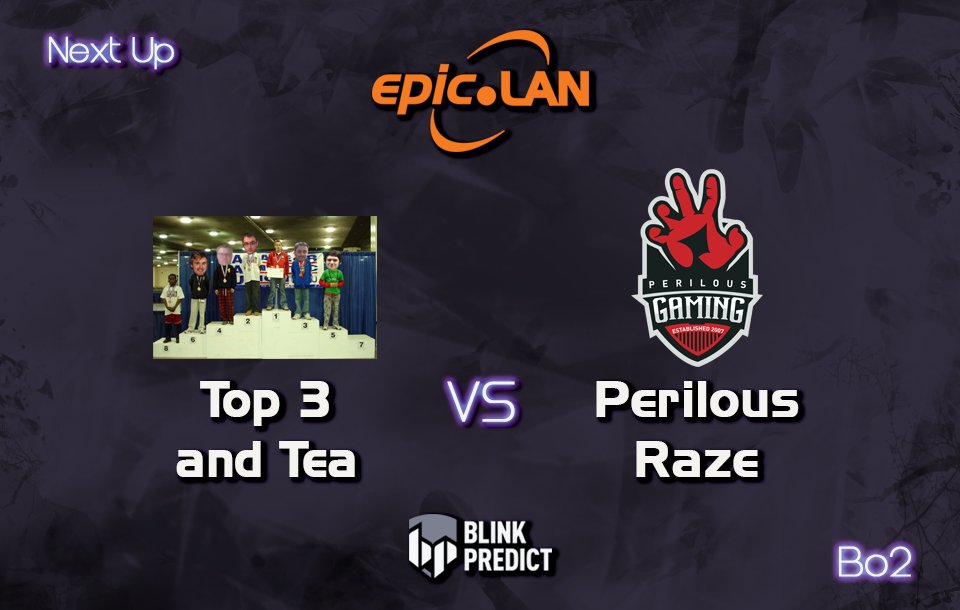 Ruin sailed through the group stage not dropping a game but Raze had more issues. If there's one thing we can say about this tournament, it's that they got the seedings mostly bang on. Raze, seeded 5th, lost 0-2 to Top 3 & Tea, seeded 3rd, while AA, seeded 7th, lost 0-2 to Raze. After games were over, Ruin went for their traditional Nandos, or some sort of unhealthy chicken, and members of Raze and AA went to the park for a kick about and to throw a nerf missile at each other. This is what LAN is all about. Sure, everyone is there to play esports but the reason they come is to hang out with each other and drink rhubarb cider.
Brian's Top 5 of Friday
Swings!!!
Owning Barg on Twitter
Seeing The Perilous Derby at last
Hearing about Soup throwing up 8 times on the Thursday
A CS:GO player telling the Pub Quiz to keep the noise down
We always say that, at Epic, Friday is the fun day while Saturday is the day of tears. Playoffs are always tough and, for some, this was a gruelling day of Dota. Raze started off the day facing 4th seeds Zakstabbed made up of political powerhouse Dai, the always photogenic and former Ruin player Burge, Slate who might get to do a 1v1 one day, Caspah and 6ixx. The 1st game was a stomp for Zakstabbed but game 2 wasn't so easy. Raze put up a fight, defending against megas for a time, but the series ended 2-0 to Zakstabbed. This would be the start of a great day for Zakstabbed. A long day but a great one as well.
Ruin started out the day going against 6th seeds GYM not SCRIM made up of LoG Reeper who also may get to do a 1v1 one day, Cook, UKDota's number 1 Hearthstone player Blackout, former Ruin player Antab and Henry_Bot. It was pretty clear, by this point in the tournament, that Ruin were a formidable force. They took the bo3 2-0 sending GYM not SCRIM to the lower bracket to face Raze in bo1 elimination games.
There's always a point in a tournament where you have a game that, if your team loses, you know you're going to be disappointed. For Raze it was their elimination game against GYM not SCRIM. While the stack was a last minute addition, it was full of UKDota veterans, with more LAN experience than Raze. It started out in GYM not SCRIMS favour but Raze pulled it back and stayed in the competition. Their reaction to winning was massive and had to be a lot of their favourite moment from the tournament. Unfortunately, they lost their next elimination game to Top 3 and Tea coming 5th. Some of the players were disappointed but they were seeded 5th and took down a much more experienced team in the process. Yes, winning is important but it isn't the only victory. After getting knocked out, Raze went to chill and set up a fantastic photo opportunity.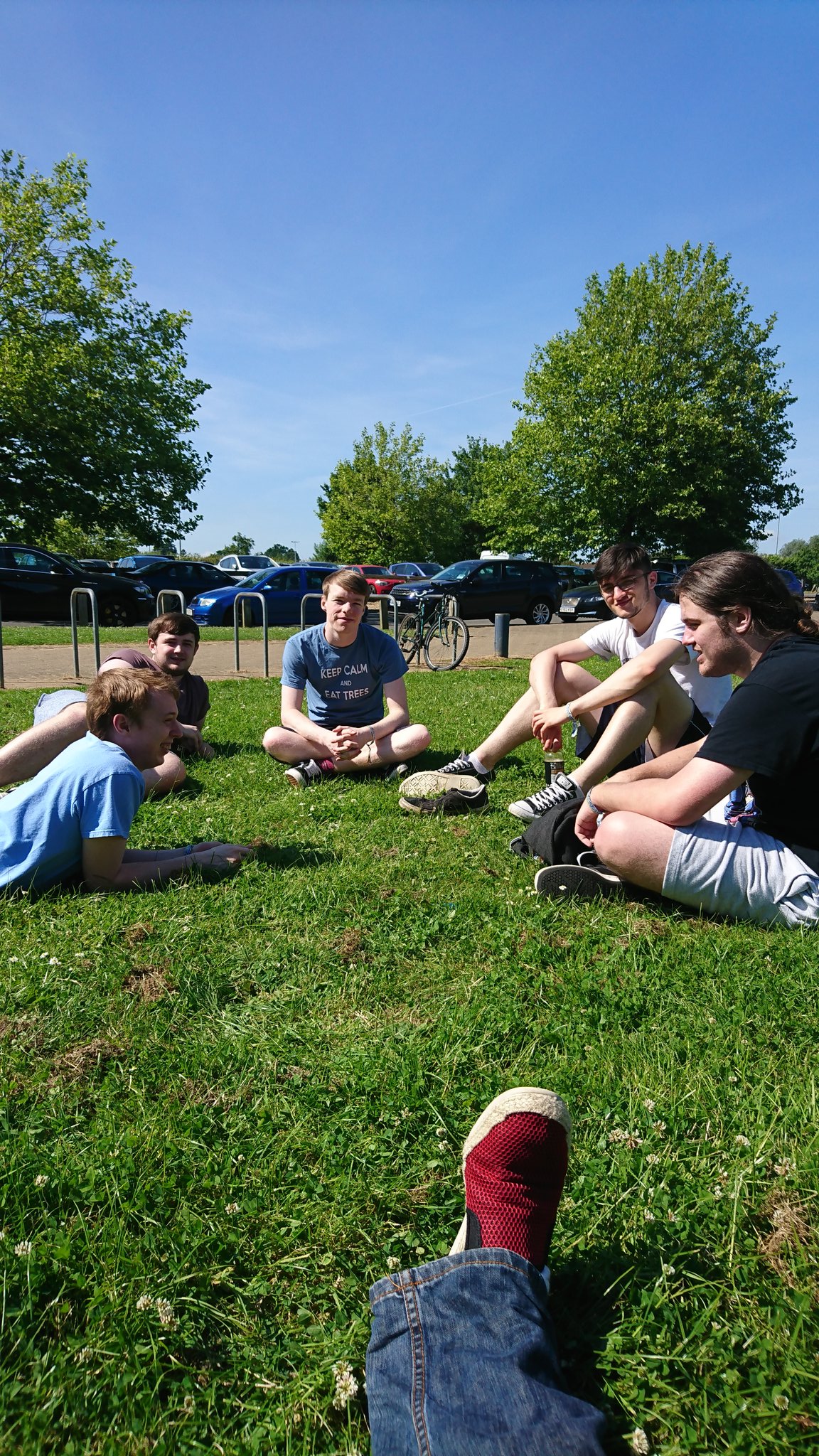 While Raze's journey at Epic 21 had ended, Ruin's was about to light up as they faced 2nd seeds i had a dream about kiev, in the upper bracket final, made up of former Xenex players Meep, Mute and 1cHiGo_ with Inferno and, master of shadow, Zak. If any team at the tournament could take Ruin down, it was these guys. The first game went to kiev. It was the first time Ruin had taken a hit the whole tournament. But, we got to see Jaloobi Pudge so it was sort of worth it. After this game though, Ruin sat up. They took game two in 22 mins. Game 3 lasted longer, with a welcomed appearance from Magic Turtle Omni Knight, but Ruin took the series 2-1 making it through to Grand Finals. Ruin's games where over by about 8pm. However, for the team that would face them in those finals, the evening was far from over. Kiev won the lower bracket finals and left the venue at 4am exhausted and having to be back at 10am for the Grand Finals against Ruin.
Brian's Top 5 of Saturday
Doopz tilting a team down 2k mmr
Jaloobi sandstorming golums
Blossy accidentally making an emergency call out
3 of us attempting to down a fishbowl
Burge's inability to end games
The grand final was a quick casual affair with Ruin taking both games in an hour and winning Epic 21 3-0. In no way should this impact on the players of kiev. Winning is why we do these tournaments but you want an exciting grand final. That team was made up of UKDota legends, who we've held in high regard as long as we've been in the scene, and LAN veterans. The fact they even turned up and played as well as they did after very little sleep, and probably one or two hangovers, is a testament to how good this stack was. We wish them all the best in the continuing mess we call UKDota.
Look out for highlight videos as well as announcements about tournaments and events for both PerilousRAZE and PerilousRUIN in the very near future.
General Manager Brian "DotShotgun" Houston had this to say to finish our round up;
"For years, I envied CeX and Xenex. They were the only top tier Dota teams in the UK with not only some of the best players in UK but EU. I always had dreams of having a roster like that for Ruin. We now have it. Rabbit is a beast, and I'll be looking forward to seeing Rabbit Lina in the future, rime is rime and Dacster is the very definition of a silent assassin. The two stars of Ruin, for me, will always be Jaloobi and Magic Turtle though. To see those guys go from cheesing 6k players with Huskar strats to the Dota2 players they are today, will be one the highlights of my career in esports. I always said it was funny that last year Ruin disbanded in March and didn't play together, after a number of coincidences happened, till February of this year. In that time Jaloobi and Turtle played on different teams and stacks but didn't play together until Ruin reformed. Says it all really.

While Ruin will always be the most important team, Raze is my favourite. They were the first esports team I ever created. To see the team going from 5 players and a manger who didn't have a clue what they were doing, to a LAN team sitting next to Ruin was just the greatest feeling ever. Some of the best memories I have from LAN is just chilling with them on the grass outside the conference centre. Obviously, every team wants to win but Raze is about more than that. Those 5 players show that you can come to LAN, lose most of your games and have the best time of your life. All five of them left with smiles, albeit sleep deprived hungover smiles, and you can bet they'll do the same next time. Also, the look on their faces after I tricked them into thinking they were getting t-shirts and surprising them with hoodies makes the job all worth while.

Would like to take this opportunity to thank Epic.LAN and BlinkPredict for being driving forces of UKDota. I know, first hand, just how much work the folks at Epic put in to keep everything running. In the same way I sometimes forget how Perilous is thought of, they must forget how much all of us in UK esports, especially in UKDota, appreciate everything they do for our scenes. Epic is the go to LAN if you want to participate in esports tournaments and I encourage all players from UKDota who read this to put a stack together and attend Epic 22 in October. While the Blink guys are still finding their feet, the amount they've done over the past years for UKDota is unprecedented; 4 seasons of BlinkDota League, two LANs, sponsoring Epic 21 and now they are blazing the way with technology that is a first for the UK with https://blinkpredict.com/. I started out at the same time as these guys, still remember getting Zambrella to cast a scrim between Raze and Moist for Death Prophet back in the day, and while I have came far from my early days, these guys are a dot to me. I cannot wait to see all their hard work pay off in the years to come.

While writing this article, I realised something that pretty much sums up UKDota. No matter what goes on in the messed up world of the internet, you can bet that it's either put aside or forgotten about at LAN. This is why UKDota will never die. It might have been in limbo for years but it'll always keep going because of LANs like Epic and a scene that just wants to have a good time, talk shit and play games."